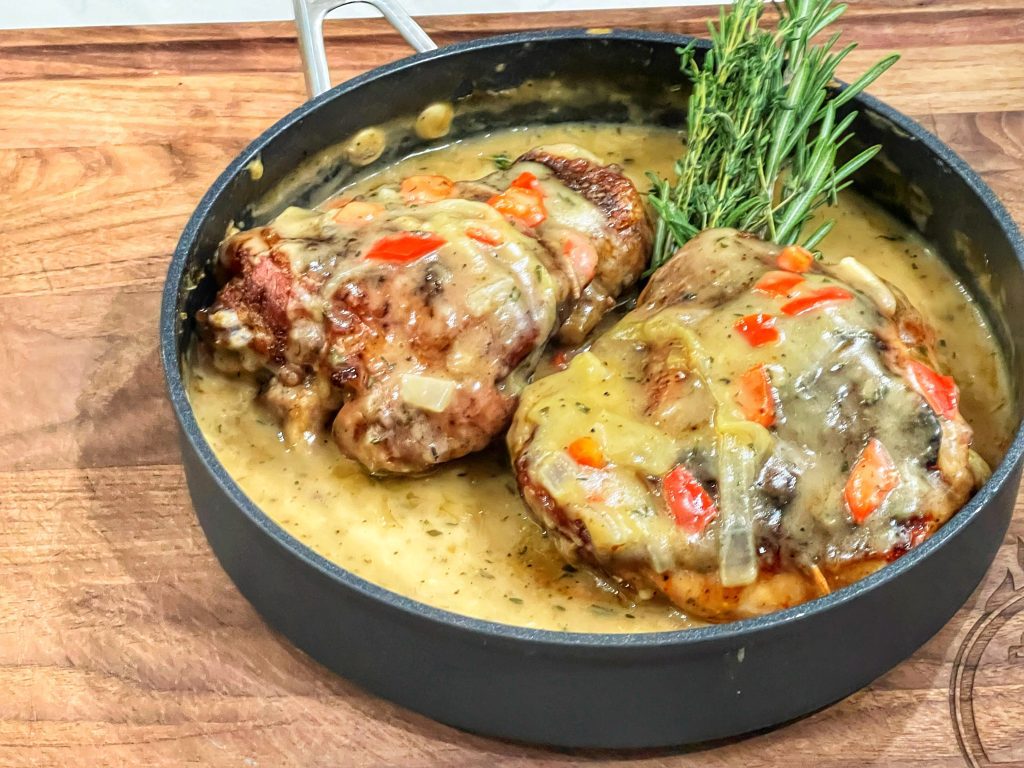 Smothered Turkey Thighs
Ingredients:
Turkey Thighs
2 tablespoons butter
1 tablespoon olive oil
½ med onion – sliced
¼ cup red bell pepper – diced
1 teaspoon fresh thyme – minced
1 teaspoon fresh rosemary – minced
2 cups chicken stock
3 tablespoons AP flour
Cajun or all purpose seasoning.
Salt / Pepper
Prep:
Turkey Thighs:
24 hours prior to cooking. Place thighs on a rack and sheet tray.  Season both sides with salt.  Let it set out in the fridge overnight.
Day of cooking:
Preheat over to 375f
Rub olive oil on the turkey thighs.
Season thighs with cajun or all purpose seasoning.
Roast in oven for an hour to an hour and half.
Remove from the oven and set aside.
Gravy prep:
On the stove, using med-high heat, using an oven safe deep pan. Add butter and olive oil.
Add onions and peppers. Saute until soft and translucent.
Add Salt / Pepper to taste.
Add thyme and rosemary.
Cook mix for 1-2 minutes.
Add flour, 1 tablespoon at a time, until all grease is absorbed.
Cook for another 1-2 min, just to cook out the raw flour taste.
Pour in stock 1 cup at a time, whisking constantly.
Optionally, add ½ cup of the turkey drippings.
Once completely thickened, add your thighs into the gravy.
Place pan with the thighs and gravy back into the oven for 30 min.
Spoon gravy over the thighs, let cool for a minute or two and enjoy.