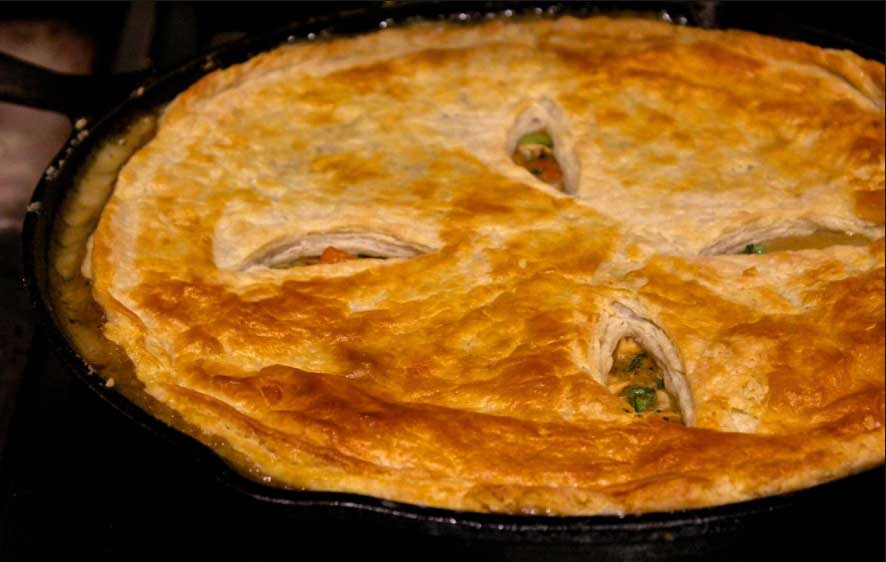 Skillet Chicken Pot Pie:
Ingredients:
Whole roasted chicken.
Potatoes – 1 cup Cubed.
Carrots – ½ cup Cubed.
Peas – ½ cup.
Celery – ½ cup Diced.
Onions – ½ cup Diced.
Chicken broth – 1-2 cups.
Puff pastry.
Butter – 2-3 tablespoons.
Sage and rosemary – Chopped finely – about a teaspoon each.
Egg wash.
Bacon grease.
Prep:
Remove meat from roasted chicken and chop up to bite size pieces.
In your skillet melt the butter and bacon fat.
Add in the diced carrots, potatoes, onions, and celery. Sauté for 8-10 min.
Add the herbs, garlic, and chicken.
Sprinkle in a tablespoon of flour and cook through.
Mix everything together and add 2 cups chicken stock.
Unfold the puff pastry and cut corners of to make round.
Put the pastry on the top of the mixture. Cut 4 slits in the top and brush on egg wash.
Cook 15-16 min in 400-degree oven.
Pull out of oven and let stand for 10-15 min.