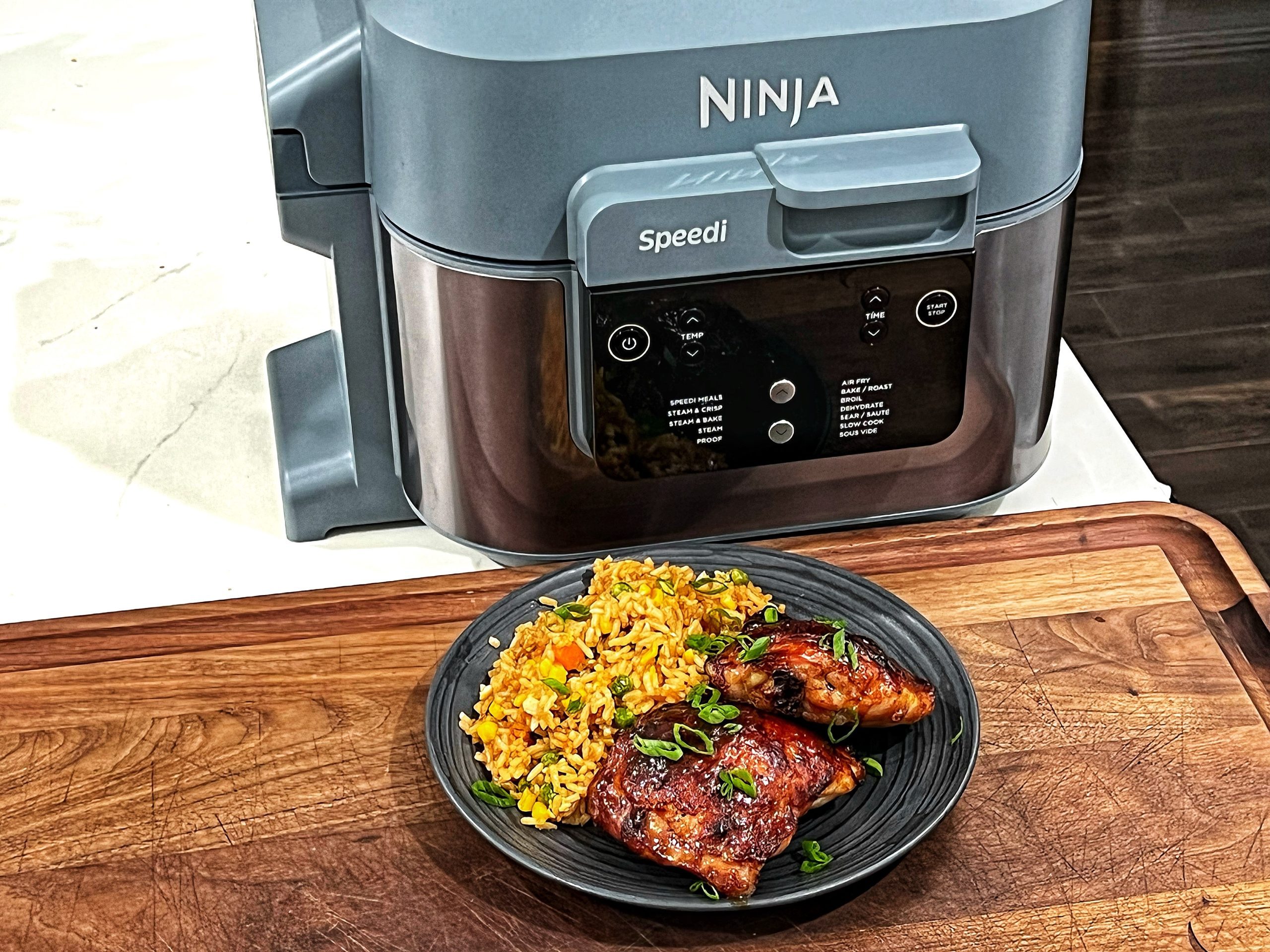 Ninja Speedi Teriyaki Chicken and Fried Rice
This is a perfect weeknight budget meal for the family! Teriyaki chicken and fried rice all done in about 20 minutes. The flavors on this one are out of this world!
Ingredients:
4 chicken thighs. Bone in and skin on.
1 cup rice rinsed.
1 cup frozen vegetables.
1 and ½ cup water.
¼ cup soy sauce.
1 egg.
1 tablespoon sesame seed oil.
1 tablespoon salt.
½ cup teriyaki sauce.
1 tablespoon hoisin sauce.
1 teaspoon sriracha.
1 teaspoon black pepper.
1 teaspoon garlic powder.
1 teaspoon sliced green onion.
Prep:
24 hours prior to cooking. Sprinkle Kosher salt all over the thighs and let set uncovered in the refrigerator. (This is the "Dry Brine" process)
In the Speedi pot, pour in the rice, veggies, and water.
Place the top rack in the Speedi pot and add the chick to it.
Close the lid, turn on the speedi to the rapid cooker setting. And choose Speedi Meals.
Cook at 390F for 15 min.
In a pot on the stove, add the Teriyaki sauce, hoisin, sriracha, garlic powder and black pepper. Stir and combine over medium heat for 5 to 10 minutes, until thickened up.
After the chicken has cooked for 5 to 7 minutes, open the Speedi and brush the chicken with the teriyaki sauce.
Close the lid and continue to cook another 5 minutes or so, until the internal temp of the chicken hits 170-175 internal.
Remove the chicken and rack from the Speedi.
Turn the Speedi to the sear/sauté mode on HI.
Add the soy sauce, sesame oil, sriracha and egg to the rice and veggies in the pan.
Stir over high heat for 5-10 minutes.
Remove fried rice from pot, serve with the chicken and enjoy!