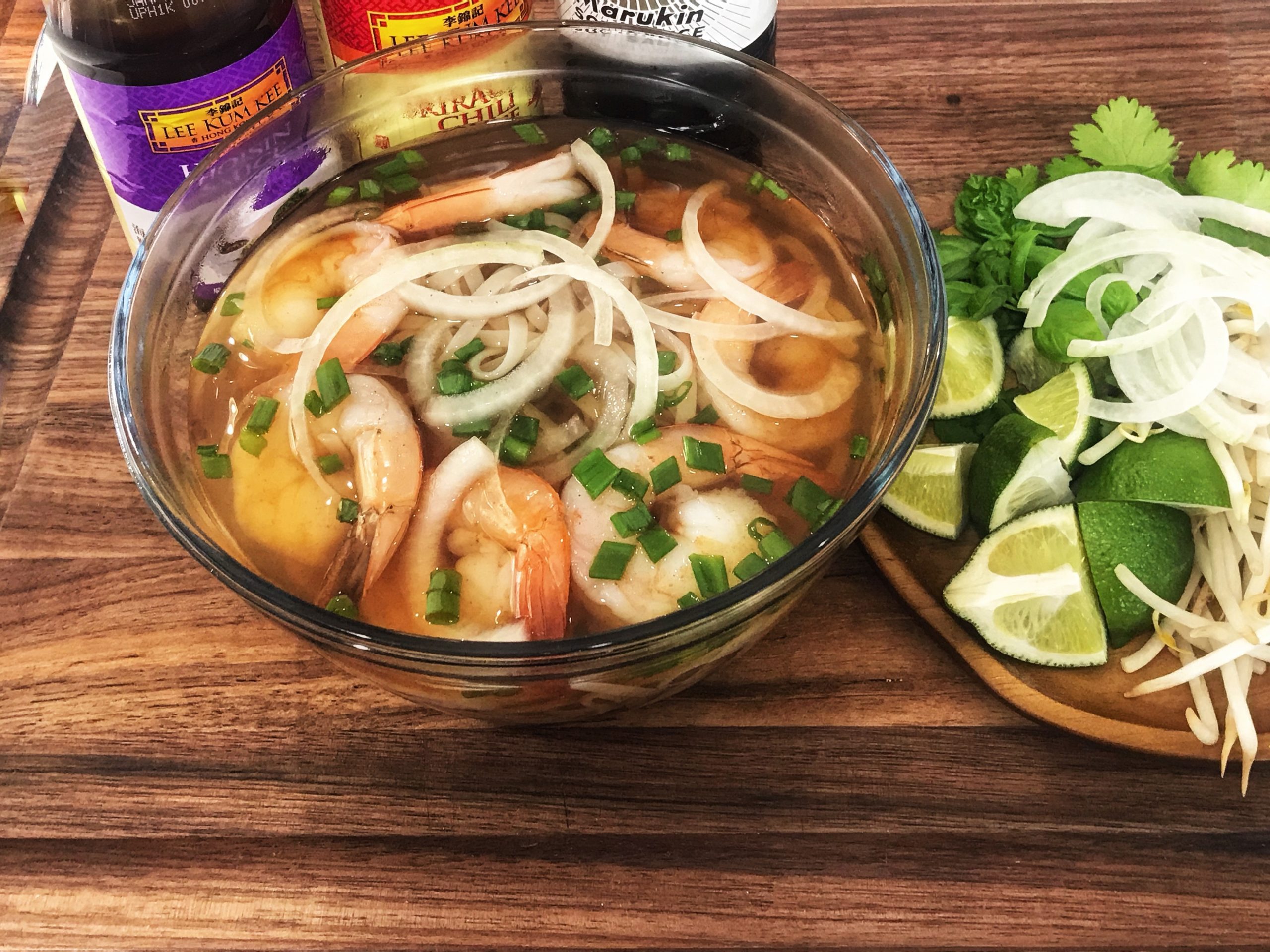 Ninja Foodi or Instant Pot Easy Pho Recipe
I will show you how to make a fast, easy Pho broth and turn it into a wonderful bowl of Pho Tom, or pho with shrimp in it. This broth took 30 minutes in my Ninja Foodi! A good pho broth takes hours and hours to simmer on a stove. And I did it in 30 minutes! This turned out awesome and should be a must try for all Ninja Foodi or Instant pot owners!
Ingredients: 
4 cups Beef Bone broth. 

6 cups of water

Two-inch section of Ginger root. 

One medium onion. 

1 and 1/2 tablespoons of Chinese Five Spice blend. 

2 tablespoons of kosher salt. 

2 tablespoons of rock sugar. 

4 tablespoons of fish sauce. 

Package of rice noodles. 
Extra's: 
Sliced thin onions. 

Green onion. 

Bean Sprouts. 

Lime. 

Basil. 

Jalapeno.

Sriracha, Hoisin, Soy Sauce.
Prep:
Use a spoon to peel the skin off the ginger root.

Slice the onion in half, peel off the outer paper layer of the onion.

In a dry hot cast iron skillet, place the onion and ginger, and char all sides. 

Place the onions, ginger, sugar, salt, five spice, fish sauce, and bone broth to the pressure cooker pot, cover with the lid.

Make sure the pressure cooker lid is sealed.

Set the pressure cooker to the HIGH setting for 30 minutes.

Quick released the pressure valve. 

Remove the onion and ginger from the broth. 

Blanch your rice noodles to package specifications.

Poach your shrimp until cooked through. 

Place noodles, shrimp, and whatever extras you enjoy in your pho into a bowl.

Ladle the broth over the noodles and shrimp. 

Enjoy! 
For video recipe: