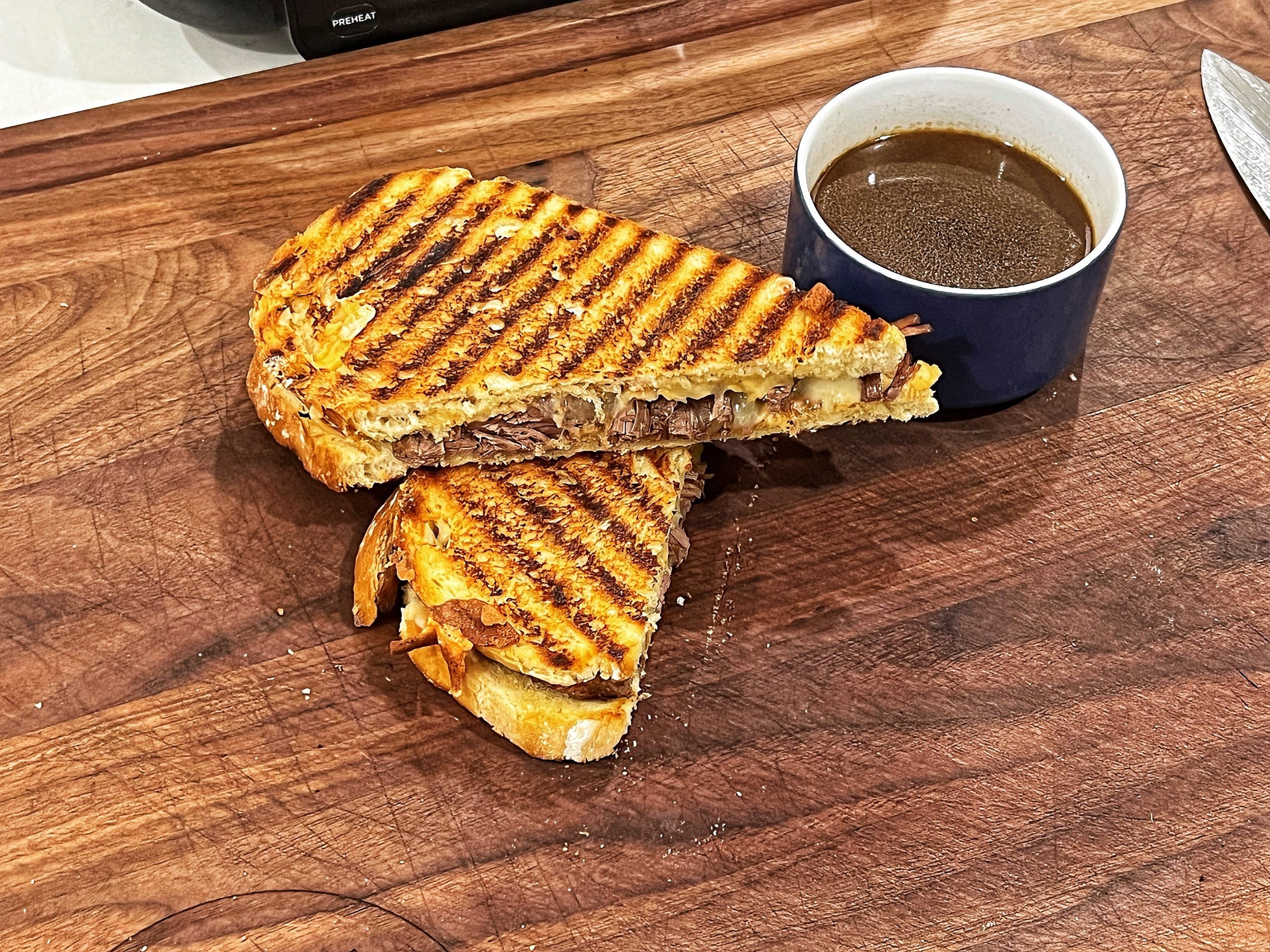 Ninja Foodi Grill Braised Short Rib Grilled Cheese Panini!
This amazing sandwich starts with making the best braised short ribs and ends with a melty, cheesy, crunchy panini! Using your Ninja Foodi Grill and Griddle makes this sandwich a breeze and toasts it up perfectly.
Ingredients:
Sliced Italian Bread.
Smoked gouda cheese – 1 cup grated.
Any spicy cheddar cheese – 1 cup grated.
Beef short ribs.
Chopped Onions, carrots, celery – About a cup of each.
6 cups beef stock.
3-4 sprigs of rosemary.
1 tablespoon minced garlic.
1 tablespoon all-purpose seasoning.
2-3 tablespoons olive oil.
Prep:
Braise the beef ribs:
Season short ribs.
Add olive oil to Dutch over or large pan.
Sear the short ribs until brown on all sides.
Remove short ribs and place on a plate off to the side.
Add the onions, carrots, and celery to the Dutch oven and sauté for 5-7 min.
Then add the minced garlic, continue to sauté for another 2-3 min.
Add the short ribs back to the veggies in the Dutch oven.
Cover with beef stock.
Place Dutch oven in a 350F over and cook for 3-4 hours, or until meet is fork tender and can be shredded.
Once done, remove the short rib, shred the beef and place to the side.
Strain out a couple cups of the braising liquid into a pan, place on the stove, then reduce over medium heat for 20-30 min. This will be your Au Jus for the panini.
Make the Panini:
Heat your Foodi Grill on the Griddle setting to 400f.
Add a light drizzle of olive oil to both sides of the bread.
In the Foodi Grill, you're going to toast the "inside" of the panini on the griddle plate.
Then remove the bread, set aside, then carefully remove the griddle plate, using heat resistant gloves or potholders.
Add the non-toasted side to the grill, then add your cheese and short rib meat.
Cap the panini and then using the griddle plate, holding with heat resistant gloves or pot holders, carefully press the top of the panini on the grill for 30 seconds to a 1 minute or until it's as toasted as you like.
Then flip the panini, and press that side with the griddle plate, until your desired doneness. Remove from the grill, let cool for a minute.
Slice the panini in half and enjoy.