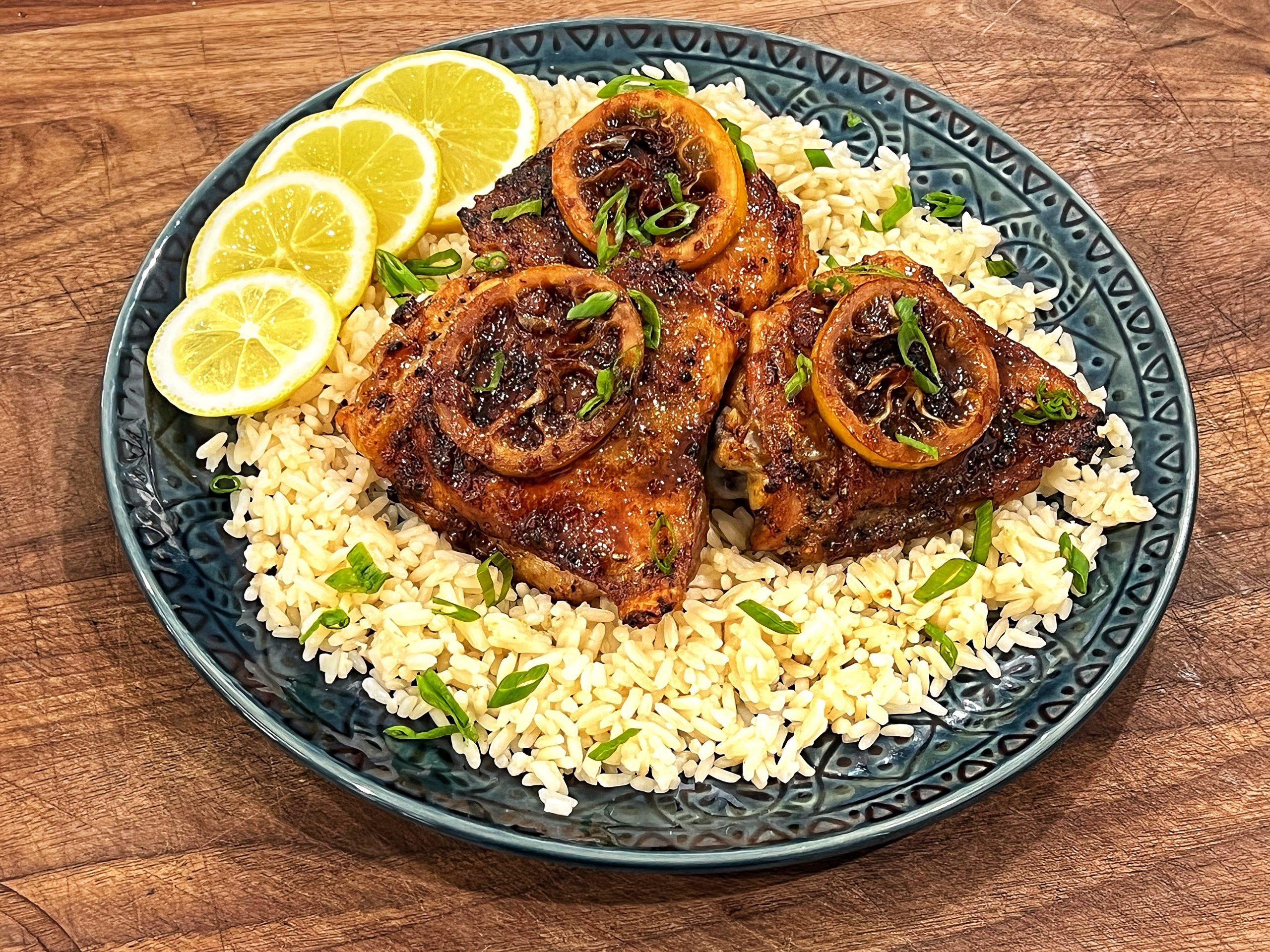 Honey Garlic Lemon Pepper Chicken Thighs
Ingredients:
8 Bone in – Skin on chicken thighs.
1 tablespoon Lemon Pepper seasoning.
1 tablespoon Granulated onion powder.
1 tablespoon Granulated garlic powder.
1 tablespoon smoked paprika.
2 tablespoons olive oil.
Sauce ingredients:
2 tablespoon butter.
1 tablespoon minced garlic.
1 tablespoon honey.
¼ cup soy sauce.
¼ cup water.
Juice of one small lemon.
8 Lemon slices.
Prep:
To make the seasoning marinade. 
Mix lemon olive oil, pepper seasoning, salt, pepper, garlic powder, onion powder, and smoked paprika in a small bowl. 
Rub this mix on the chicken thighs, rub some of the mix underneath the skin. 
Let the chicken marinate for at least 4 hours or up to overnight.
After the thighs have marinated, heat the oven to 425f. 
Line a sheet pan with foil and set a rack over the pan. 
Bake for 30 minutes, then flip the thighs and cook for another 20-25 minutes. 
To make the honey garlic sauce. Melt butter in a medium skillet on low to medium heat, then add minced garlic, honey, soy sauce, water, lemon juice, and lemon slices. 
Let the sauce gently simmer until it has slightly thickened. 
Brush the honey sauce on the thighs, top with caramelized lemon slices, and bake until the thighs reach an internal temperature of 165 F. 
Remove from oven, place over some white rice, and enjoy!