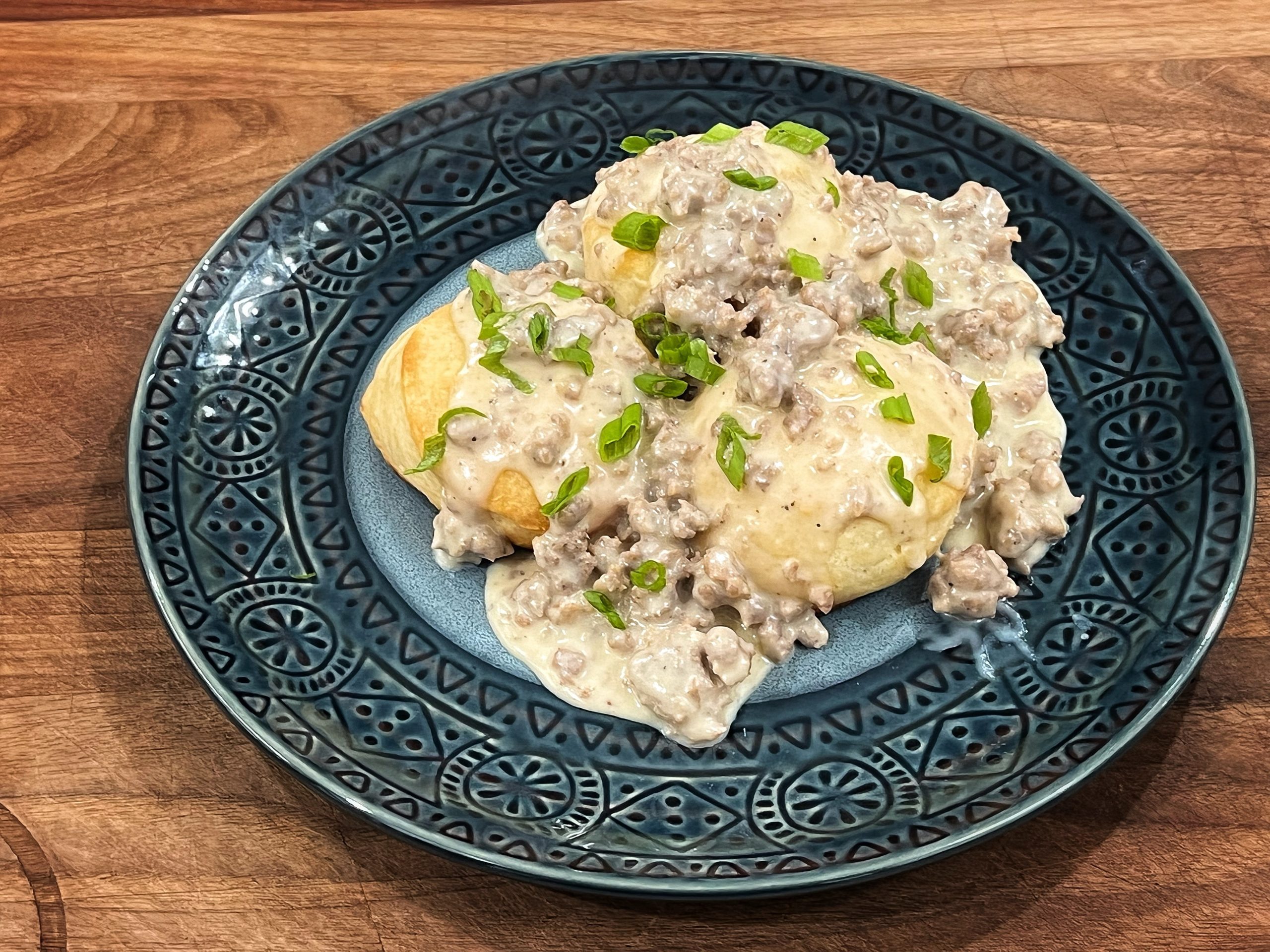 Homemade Biscuits and Sausage Gravy
This is a breakfast staple in my home. So, I've found the easiest way to make biscuits and gravy, so you can enjoy faster. Follow these steps for an amazing and easy biscuits and gravy!
Ingredients:
Biscuits
2 cups of self-rising flour.
1 ½ cups heavy cream. (Must use heavy cream)
½ teaspoon sea salt.
Gravy
1 – 16oz tube of breakfast sausage.
1-2 tablespoons all-purpose flour.
Approx. 2 cups whole milk.
1 teaspoon seasoning salt.
1 teaspoon black pepper.
Make the gravy:
Add sausage to pan and cook through.
Add flour to sausage to absorb sausage grease. Cook for a minute until raw flour is cooked.
Slowly whisk in the milk.
Add seasoning and Pepper.
Cook on medium high until gravy is as thick as you want it.
Make the biscuits:
Preheat oven to 475 degrees.
Add flour and salt to a bowl. Pour in cold heavy cream and stir with a wooden spoon until mixed.
Dump dough onto a counter and scrape out any remaining dough or flour.
Pat into a rectangle about 2" thick. Fold in thirds, turn 1/4 and fold again, continuing 3 times.
Roll dough to 1-2" flat.
Cut biscuits with a 3" biscuit cutter. Press down and bring straight up. Do not twist biscuit cutter.
Place biscuits on a lined cookie sheet about 2" apart. Bake for 12 minutes, until golden.
Brush with butter and sprinkle with flaky salt.
Poor gravy over biscuits, garnish with green onions or chives.
Enjoy!